HIGHSIDE LONGSWORD
Our next performance will be on Boxing Day 2023, tour of Kirkby Malzeard, starting at the Queen's Head at 1pm.
Then at various plough blessings - 7th January, 1045am, Masham -14th January, 10.30, Kirkby Malzeard - 14th January, 3pm, Ripon Cathedral.
We have an extensive logbook of all our performances. See latest entry.
Pictures of Boxing Day 2003, Boxing Day 2006, Plough Blessing 2007 Press cuttings 2010
We were formed in 1986, which although relatively recent we have quite a good historic "pedigree". Our original aim was to learn and revive a local version of the Kirkby Malzeard Longsword dance. We actually danced out for the first time on Boxing Day 1987 in Kirkby Malzeard. We all live within 6 miles of Kirkby, which is now in North Yorkshire. At the time of Cecil Sharp's visit it was in the West Riding of Yorkshire.
The last "official" village side danced in the 1920's and 1930's, although a group of ladies gave the dance a brief revival in the 1950's and many other teams have danced here. Claro Sword and Morris Men dance here regularly on the May Bank Holiday.
If you wish to contact us please email - Ted Dodsworth Or phone 01765 620441
We took our name from the area of land on the moorland side of Kirkby, towards Pateley Bridge, called the Highside. Our kit is turquoise waistcoats (spare curtaining material), black cord trousers and a white collared shirt. We looked at old photographs of the dancers and kit ranged from red and white soldiers outfits to green knee britches to floral skirts so we thought we'd 'start again'.

The Captain, who sings the calling on song, wears his own clothes and our original musician wore a waistcoat embroidered with the double triangle lock on the back. His father, Bob Waite, was the musician for the team from the '20's and '30's
| | | |
| --- | --- | --- |
| | Our annual dance-outs include a Boxing Day tour of Kirkby Malzeard. We always dance as part of the Plough Blessing service in Saint Andrew's church in Kirkby which is usually the 2nd or 3rd Sunday in January. In recent years we have also danced at the Plough Blessing service in Masham church which is often on the same day. In even more recent times we have been part of Ripon Cathedral's Plough Blessing Service. We frequently dance at Masham Sheep Fair on the last weekend in September. Picture of Peter Meese courtesy Heather Hazell. | |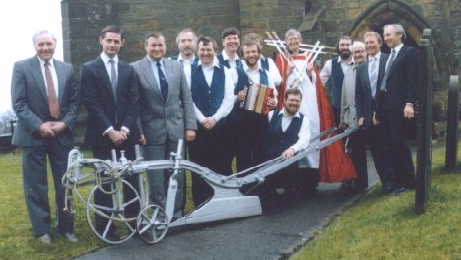 Pictues of old Kirkby teams. Versions of the Captain's song. We usually 'behead' someone after the dance, pictures here.
In April/May 2002 we taught some of the children of Kirkby Malzeard School some figures and a simple lock. Click here for some pictures of their performance on the 3rd May.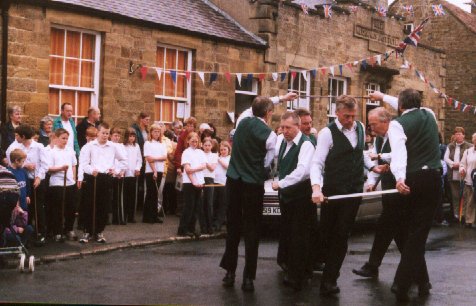 8th June 2002, Golden Jubilee celebrations in Kirkby Malzeard.
3 sets of Kirkby children waiting to perform.
Extract from Lucas's Studies in Nidderdale.
Reports of the team from the 1920's and 30's at the Whitby Festival and the Yorkshire Festival Cecil Sharp Memorial.
Correspondence between Miss Haithwaite (now Mrs Waite) and Henry Holmes and Norman Wood.
Photographs provided by Susan Cunliffe-Lister of a sword team at Swinton Castle near Masham. Any information please.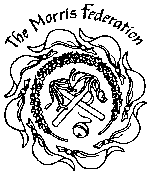 We are members of the Morris Federation, an organisation which coordinates and promotes Morris Dancing.
The Sword Dance Union's day of dance was held in Ripon on Saturday, October 12th, 2013. Click here for info about the teams that attended.
Excellent article about us in January 2012 issue of the Dalesman.
A good source of material on all things concerning Longsword dancing is a broadsheet called Rattle Up My Boys published by Jeff Lawson, 110 Park Road, Chorley, Lancashire. PR7 1QY. Tel. 01257 249686 or email rattleupmyboys@gmail.com
Morris Dancing Teams in the Ripon & Harrogate District

Kirkby Malzeard

Morris Diary
Video of us dancing at the 2011 Plough Blessing in St. Andrew's church, Kirkby Malzeard.