Kirkby Malzeard Longsword Teams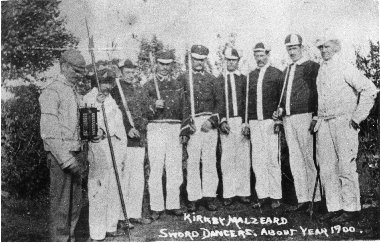 Loaned to the Ripon City History Project (now the Yorkshire Film Archive, based in Ripon College (to be closed in 2002)) by T.S. Gowland.
Left to Right - Jack Waite, Ned Atkinson, Fred jackson, Tom Burns, Bill harrison, Tom Prest, Tom Moore, Jos Moore and Tom Wood
Taken around the same time at Mowbray House.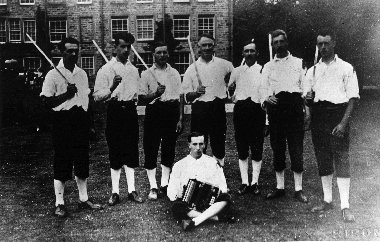 Left to right, Harry Hobson (farmer), Don Gill (dairy worker), Henry Holmes (headteacher), Ralph Wood, team leader (builder), Walt Boynton (mason at Mowbray House), Jim Gill (postman (father of Don & Frank)),Frank Gill & Robert Waite, seated (Quarryman). Also in the team but not pictured - Billy Harrison (blacksmith) and Herbert Waite (builder). Picture taken in 1932 at Grantley Hall which became an adult education institute and is now a private house. This information was given to us by Don Gill in June 1988, Don was the seventh man and when we interviewed him he said he didn't know the dance, he was pushed round by the others. He told us we should be leaping over the swords like donkeys! The kit is dark green cord britches, yellow socks, white shirt with small ribbons sewn on the shoulders. Don told us that all the britches were made the same size, each dancer having their own belt!
Chas Marshall interviewed George Wright in Boroughbridge (15/2/87) about the Plough Stots - he gave him the following information. He (George) moved to work for Mrs Lawrence Ellis in Kirkby Malzeard on 20.1.1920, where he knew the sword dancers by name: Ralph Wood (leader), Herbet Waite, Stanley Atkinson, Willy Wise (fiddle), Bill Harrison, Walter Boynton, Jim Gill.
Kirkby Malzeard Centenary Celebrations, June 21st 1952. Left to right, Lena Clarkson, Margaret Kitching, Joan Dent, Marion Metcalfe, Winnie Thirkill & Elizabeth Drewery. They are using swords from the team from the 1920's and 30's, they are different lengths! These swords could be earlier, the story is that each man went to have his sword made and the blacksmith relied on his memory from making the last one. The team was taught by Henry Holmes.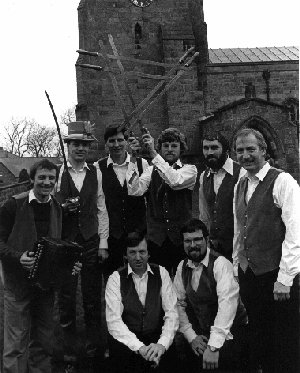 1988. Still no colour cameras! Left to right - Ray Waite (garage proprietor), son of Robert Waite, Roly Coulter (solicitor's clerk), Keith Worden (photocopier engineer), Ted Dodsworth, team leader (farmer), Roy Waite (structural engineer), distant cousin to Ray, Paul Freeman (teacher (now retired!)), front row Geoff Hyde (then a civil servant, now a practice manager for the Kirkby and Masham doctors) & Jim Coulson (timber consultant).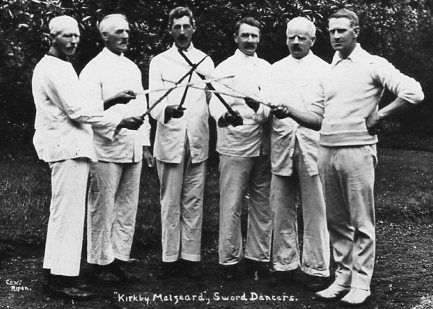 Copy of a postcard kindly shown to me by Richard Wheeler. Any information about this picture would be gratefully received!